Practice Areas: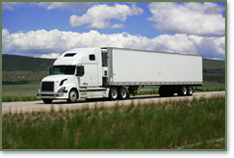 Construction Lien and Real Estate
Traffic, Truck, CDL, Overweight, Citations
Alternative Dispute Resolution

Traffic, Truck, CDL, Overweight, Citations
Jim specializes in handling traffic citations and violations for truckers. He has successfully fought overweight axles, log book, out of service, improper lane use, speeding, equipment defect, spilled load, registration, traffic signal, special permit, careless driving and reckless driving violations. He has also defended trucking companies regarding International Registration Plan (IRP), apportioned plates and trailer plate issues.
Jim works hard to keep truckers on the road and informed of changes in the law that might affect CDLs. Many truckers are unaware that convictions of any two of the following violations within three years can lead to a suspension of CDL privileges for 60 days:
Speeding in excess of 15 mph
Reckless driving
Improper lane usage
Following too closely
Traffic control devise violation with fatal accident
Driving without CDL on person
Driving without proper endorsement
Railroad crossing
The driver does not have to be in a commercial vehicle for the violation to affect their CDL. Further, the above violations that occur while driving hazardous materials result in harsher suspensions. Single occurrences of alcohol or felony related offenses could result in suspension of the CDL for a year. As a CDL is a trucker's livelihood, it is important for all truckers to know these laws and their consequences.
Michigan District Courts where Jim has represented truckers and trucking companies on traffic matters.